Welcome to the Northern Rivers District
Serving Scouting in Shasta, Trinity and Tehama counties.
Helping to run the Cub Scout, Boy Scout and Venture Crew programs for Redding, Red Bluff, Shasta Lake, Shingletwon, Weaverville, Burney, Fall River Mills, Anderson, and surrounding areas.
Day Camp Registration Will be online soon, look for it here: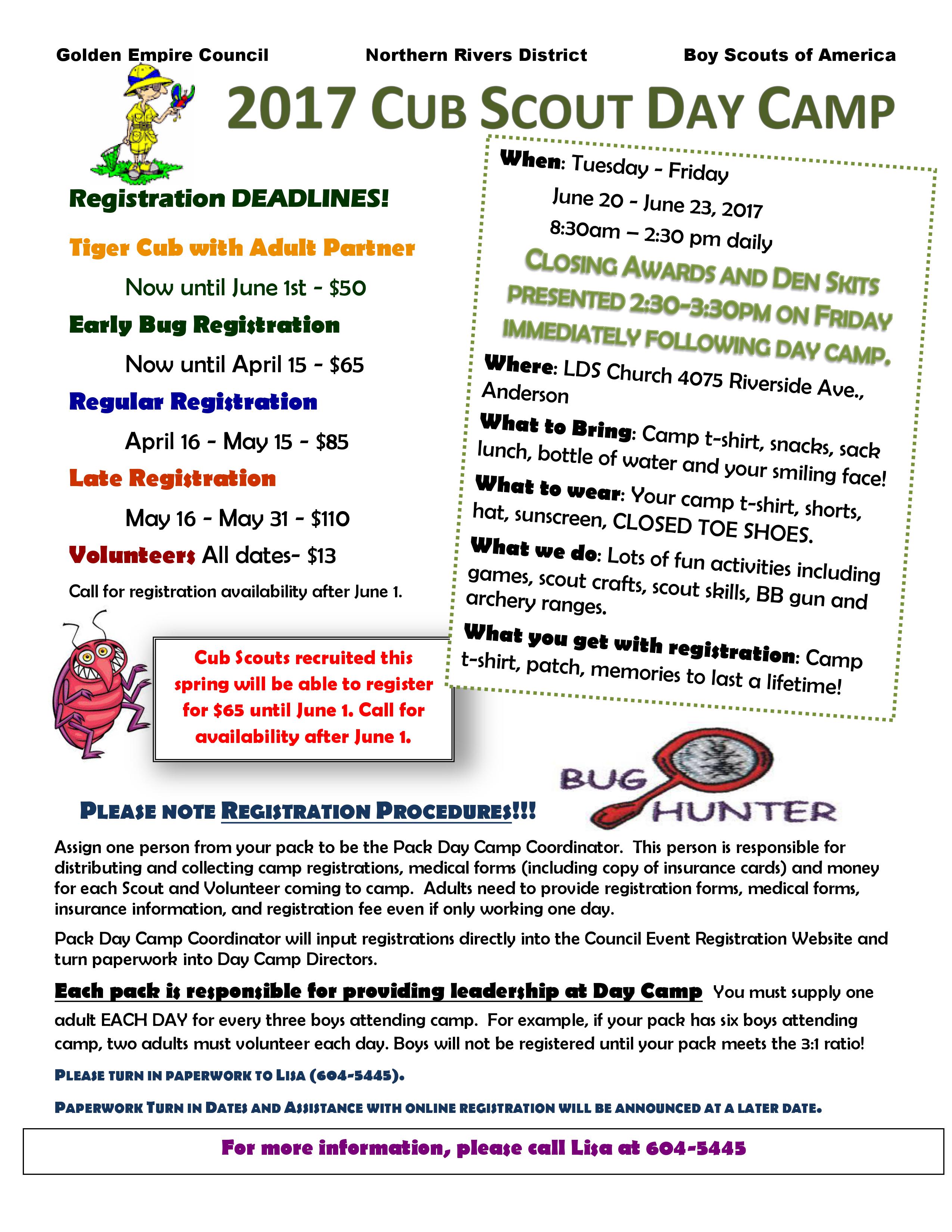 February Newsletter: Vol.3-Issue2Feb.2017NRDistNewsletter(003).pdf
Attached is the February 2017 issue of the Northern Rivers Newsletter.
Camp Registration
January Newsletter: Vol.3-Issue1Jan.2017NRDistNewsletter.pdf
Vol 3, Issue 1 - January, 2017 Northern Rivers Newsletter
Christmas Fun Northern Rivers Style
University of Scouting
Summer Camping
Winter Training
Klondike
Woodbadge
Council Dinner
2017 NR Silver Beavers
August newsletter: NR Aug 2016 Dist newsletter
Covering: National Youth Leadership Training, Day Camp pictures, NESA scholarship, NRA Courses, Woodbadge, Venturing Overdrive, Jamboree Patch Set and Woodbadge Reunion.
Want more district news? NEW NEWSLETTER STARTING
Send an email to: northern_rivers_bsa@googlegroups.com and news and updates of a variety of things will flow like the Northern Rivers into your inbox.
---
District Key 3
Acting District Chairperson, David Goldsberry
District Commissioner, Bill East
District Executive, James Hatler, 530-433-4272
---
District Meetings
Commissioner Meeting
First Thursday of each month at 7:00 pm
Anderson LDS Church, 4075 Riverside Ave., Anderson, CA
District Committee
Third Thursday of each month at 5:45 pm
Anderson LDS Church, 4075 Riverside Ave., Anderson, CA
Roundtable
Third Thursday of each month at 7:00 pm
Anderson LDS Church, 4075 Riverside Ave., Anderson, CA
Upcoming Events
| | |
| --- | --- |
| | Executive Committee meeting Location: Council office Light breakfast items will be... |
| | Northern Rivers 2017 Klondike Campout and Competition At Eskimo Hill February 24 to 26th, 2017. Winter skills competition camping with fun... |
| | Council Connections Council Connections starts at 7 PM. See you... |
| | LDS Church in Anderson - across from the Gaia... |
| | Council-wide Community Service Project Scouting for Food Units will work with their local Scouting for Food District Chairperson (or District... |
| | Workday - Yuba County Leadership and Adventure Camp On Sunday, March 5, council ATV committee will be working at the Yuba County Leadership and... |
| | Winter Fellowship March 10-12, 2017 Alcouffe Community Center, Oregon House, CA 95962 Winter Fellowship will be taking place on March 10-12, 2017... |
| | Council-wide Community Service Project Scouting for Food Units will work with their local Scouting for Food District Chairperson (or District... |
| | Pinewood District Derby in Redding. The best racers from Shasta, Trinity and Tehama counties come together for a head to head matchup of... |