Welcome to the Northern Rivers District
Serving Scouting in Shasta, Trinity and Tehama counties.
Helping to run the Cub Scout, Boy Scout and Venture Crew programs for Redding, Red Bluff, Shasta Lake, Shingletown, Weaverville, Burney, Fall River Mills, Anderson, and surrounding areas.
Day Camp Registration
Can now only be done through an email to Lisa Ransom,
Spots are still available, but only a few. $110 for late scouts, and $65 for new scouts.
Day Camp Registration forms are available here:
http://www.gec-bsa.org/event/northern-rivers-day-camp-2017-620th-23rd17-anderson-ca-830-a-230-pm/2064162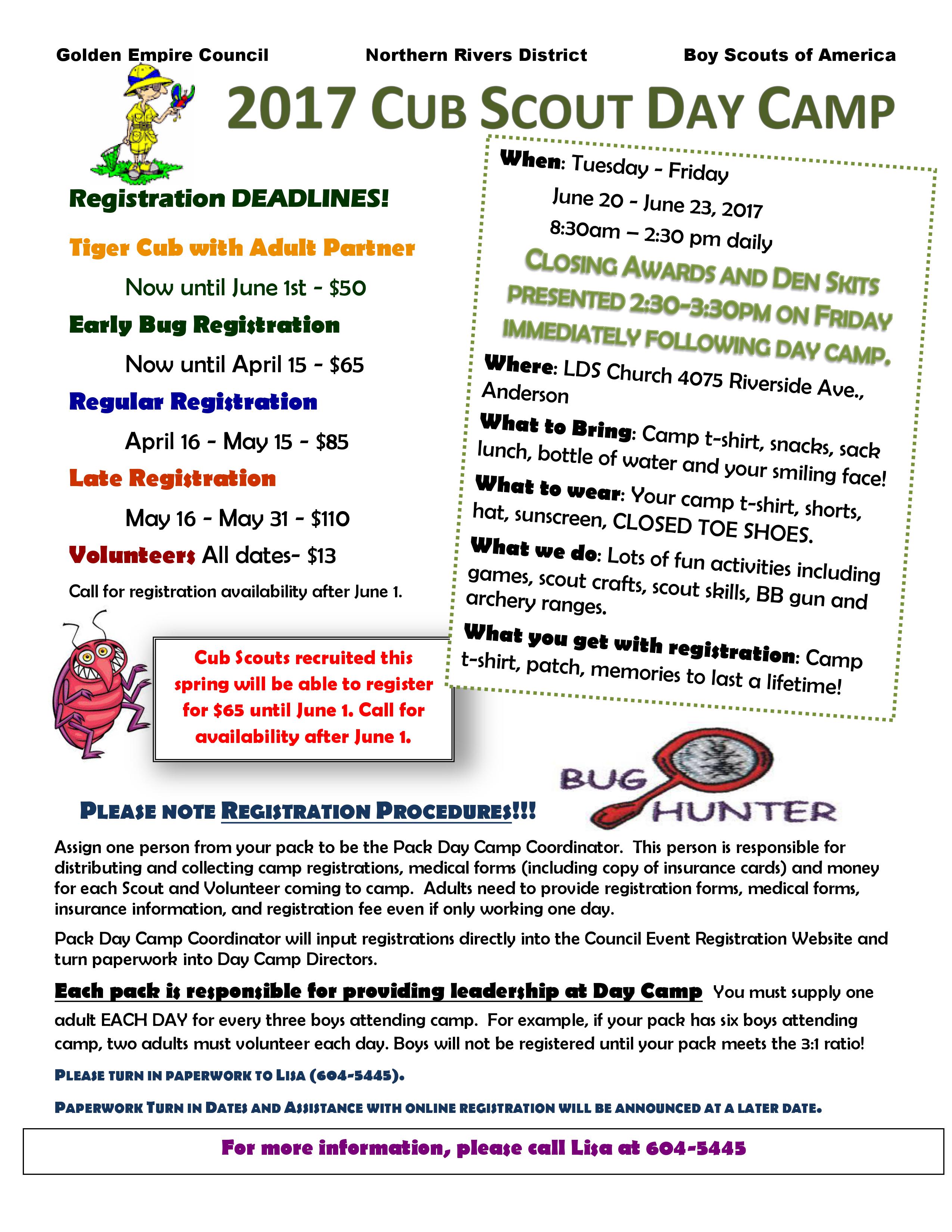 Volume 3 - Issue 5
Issue Content
Old Shasta Historical Tour
Shasta Gem and Rock Society
Public Service in Red Bluff
Precursor on becoming Trained
Day Camp
Paddle Sports
Range Officer Training - NOW ON MAY 20th
April Newsletter: Vol. 3 - Issue 4, April 2017 NR NEWSLETTER
Vol. 3 - Issue 4 (April 2017)
Issue Contents
Klondike
Merit Badge Pow Wow
Pinewood Derby
BALOO
IOLS
Camporee
Woodbadge
Day Camp
We want to hear what your unit is doing. Share your activities with others to inspire their unit plans. Submit your unit articles to the newsletter editor.
March Newsletter: March 2017 NR District Newsletter
Pinewood Derby
Scouting for Food
Camp
Scout Talent Search
Range Safety Training
Camporee
Training
February Newsletter: Vol.3-Issue2Feb.2017NRDistNewsletter(003).pdf
Attached is the February 2017 issue of the Northern Rivers Newsletter.
Camp Registration
January Newsletter: Vol.3-Issue1Jan.2017NRDistNewsletter.pdf
Vol 3, Issue 1 - January, 2017 Northern Rivers Newsletter
Christmas Fun Northern Rivers Style
University of Scouting
Summer Camping
Winter Training
Klondike
Woodbadge
Council Dinner
2017 NR Silver Beavers
Want more district news? NEW NEWSLETTER STARTING
Send an email to: northern_rivers_bsa@googlegroups.com and news and updates of a variety of things will flow like the Northern Rivers into your inbox.
---
District Key 3
District Chair, David Goldsberry, 530-222-2578
District Commissioner, Bill East, C: 530-515-3302 H: 530-547-4071
District Executive, James Hatler, 530-433-4272
---
District Meetings
Commissioner Meeting
First Thursday of each month at 7:00 pm
Anderson LDS Church, 4075 Riverside Ave., Anderson, CA
District Committee
Third Thursday of each month at 5:45 pm
Anderson LDS Church, 4075 Riverside Ave., Anderson, CA
Roundtable
Third Thursday of each month at 7:00 pm
Anderson LDS Church, 4075 Riverside Ave., Anderson, CA
Upcoming Events
| | |
| --- | --- |
| | 2017 National Jamboree Council Preorder Patch Set The Golden Empire Council, Amangi Nacha Lodge is offering two VERY special 2017 National... |
| | |
| | 4th of July - National Holiday In honor of our Nation's birthday, The Golden Empire Council Service Center will be closed from July 3-7,... |
| | |
| | LDS Church in Anderson - across from the Gaia... |
| | Anderson LDS building across from the Gaia... |
| | Roundtable Where great Scouting minds meet to exchange... |
| | Council Connections Council Connections starts at 7 PM. See you... |
| | LDS Church in Anderson - across from the Gaia... |