Welcome to the Yolano District
Serving Scouting in the communities of Davis, Woodland, Dixon, Winters, Vacaville, West Sacramento, Clarksburg, Rio Vista, and Esparto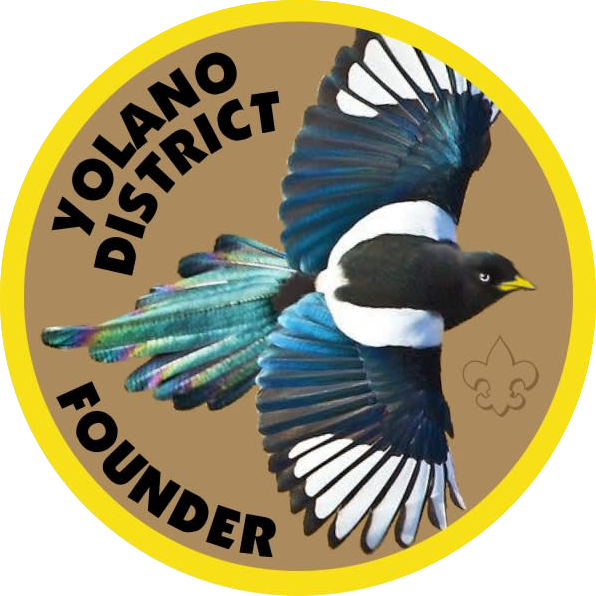 Where Scouts have fun while learning about the outdoors, responsibility, citizenship, nature and a whole lot more. Scouts are grouped by age and maturity level, gaining in experience and responsibility as they grow. Click on the "Join Scouting" tab above for information on age requirements and joining.
THE AIMS AND METHODS OF BOY SCOUTING:
The Scouting program has four specific objectives, commonly referred to as the "Aims of Scouting." They are character development, citizenship training, leadership, and mental and personal fitness.
Yolano District is responsible for carrying out four standard functions: membership, finance, program, and Unit Service.
---
NEW: Yolano District Calendar

-

Click Link
Check Out the June 2022 Newsletter
Yolano District June 2022 Newsletter
Next Yolano District Connections - August 18, 2022 [In Person] - (But Join the District Huddle on Thursday, July 21st at 7PM at Hall Park in Dixon)
Minutes for Most Recent Meeting Here
Minutes for Past Meetings Here
August's District Connections Meeting will be in person at the Woodland Log Cabin (515 Lincoln Ave., Woodland, CA 95695).
NYLT – National Youth Leadership Training June/July, 2022
NYLT Leadership Academy July 10-16, 2022
Yolano District Pinewood Derby at the Pack-O-Ree July 21, 2022 7:00 - 9:00 PM, Hall Park, Dixon
Hosted by Pack 253 (Dixon) Cub master John Decker (Contact with questions)
Next Shooting Sports Weekend September 9-11, 2022
See more planing details on page three of the March 2022 Newsletter
Will be held at Camp Lassen. Registration will be on GEC site in April
GEC Shooting Sports Events Page
Wood Badge Fall 2022
The purpose of Wood Badge is to strengthen Scouting in our units, districts and council. All registered BSA Adult leaders that have completed the basic training courses for their scouting position, Youth Protection Training and AB 506 online training are encouraged to attend. Signup before August 1, 2022 and save $50. Register on the GEC website.
Save the dates for Wood Badge Fall 2022 for Friday, September 23—25, 2022 and Saturday, October 8-9, 2022 at Camp Lassen (21359 Scout Road, Forest Ranch, CA 95942)
Questions? Contact Course Director, Paul Helman at tedpaul@ix.net.com
IOLS & BALOO Outdoor Training Saturday October 15-16, 2022
NorCal Adventure Center, Dobbins
Registration to become live soon at https://www.gec-bsa.org/event/2905733
Autumn in the Park October 21, 2022
Location: Central Park in downtown Davis
Time: 5:00 - 9:00 PM
Lots of activities hosted by Packs, Crews, Troops. Contact Rod Nishikawa, rodnishikawa@gmail.com
GEC is Planning a STEM Saturday in the Fall of 2022
1. GEC needs a Troop that would be willing to host/organized the event. The Troop will need:
2. access to a facility with 15-20 classrooms/learning space
3. STEM merit badge counselors who are available and trained to teach the class
4. Volunteers to help with registration and other administrative duties
Questions or for assistance, contact the STEM Committee
a. Kim Olsen, kjolsen@ucdavis.edu
b. Ramon Gomez, blindedscience@gmail.com
25th World Scout Jamboree 2023
Registration is now open. See more planing details on page two of the March 2022 Newsletter
Yolano Merit Badge Counselor Notes
Email from Yolano Advancement Chair, Linda Paumer on January 30, 2022 (Click to download)
Current Adult Leader & Youth Training
Updated Unit Directory
List of Units and Their Webpages
------------------------------------------------------
Want to keep up with Yolano District breaking news and special announcements?
-Subscribe to our text message feed
-We promise to keep the messages to a minimum
-Text @yolanobsa to 81010 to join (or signup at https://www.remind.com/join/yolanobsa)
------------------------------------------------------
Connecting volunteers with opportunities to care for others and improve out communities.
Just enter the zip code of the community which your unit would like to help.
------------------------------------------------------
------------------------------------------------------
------------------------------------------------------
Upcoming Events
| | |
| --- | --- |
| | 2022 St. George Trek Wednesday, July 6, 2022 to Thursday, July 21, 2022 General... |
| | |
| | Greetings Aquatics Enthusiasts! Michael Sullivan is inviting you to a scheduled Zoom meeting. Join Zoom... |
| | Greetings Aquatics Enthusiasts! Michael Sullivan is inviting you to a scheduled Zoom meeting. Join Zoom... |
| | |
| | Shooting Sports Committee invites anyone to their monthly meeting each 2nd Wed of each month at 6:30PM at the council office 251 Commerce Circle... |
| | Scouting in the Catholic Church Conference 2021 Scouting in the Catholic Church Conference Goals The goals of the conference are to help... |
| | Where: True Aim 4555 Pfe Road Roseville, CA. 95747 Cost: No Charge Time we start 8-10:30 AM Requirements: 18 + Good for 2... |
| | Greetings Aquatics Enthusiasts! Michael Sullivan is inviting you to a scheduled Zoom meeting. Join Zoom... |
| | Greetings Aquatics Enthusiasts! Michael Sullivan is inviting you to a scheduled Zoom meeting. Join Zoom... |
| | |
| | Shooting Sports Committee invites anyone to their monthly meeting each 2nd Wed of each month at 6:30PM at the council office 251 Commerce Circle... |
| | "Give Camp Lassen Some Lovin" Workday on August 13-14, 2022. We will be working on removing tree stumps in the parking lot, fixing... |
| | Instructions for the Ordeal Registration If you are a Candidates for NEW Ordeal Memberships plan to arrive Friday by 7:30PM Link >> To... |
What's happening around the District
---
Yolano District Newsletter
Current - June 2022
Yolano District Newsletter - Archives
(Archives of Past Issues of The Pleasant Pheasant: Click Here)
---
Website Corrections & Additions
Please send website corrections and additions to Tom Sands, the Yolano District Webmaster
-Updated on 2022-07-01