Welcome to the newly formed 'Yolano' District
Serving Scouting in the communities of Davis, Woodland, Dixon, Winters, Vacaville, and Esparto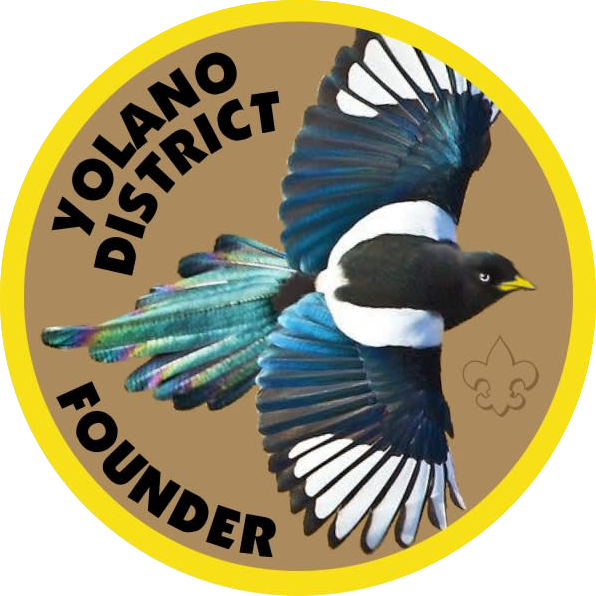 Where Scouts have fun while learning about the outdoors, responsibility, citizenship, nature and a whole lot more. Scouts are grouped by age and maturity level, gaining in experience and responsibility as they grow. Click on the "Join Scouting" tab above for information on age requirements and joining.
THE AIMS AND METHODS OF BOY SCOUTING:
The Scouting program has four specific objectives, commonly referred to as the "Aims of Scouting." They are character development, citizenship training, leadership, and mental and personal fitness.
Yolano District is responsible for carrying out four standard functions: membership, finance, program, and unit service.
---
---
Camporee and Family Camp Surveys
No one is perfect and we certainly are not, though we strive to improve. To do that, we need your help. Feedback is a gift, and your constructive feedback can help us improve Camporee and Family Camp next year. Please circulate the following links with everyone who attended, both youth and adults.
Camporee: https://forms.gle/rQ3etqYR4jQL7sZD7
Family Camp: https://forms.gle/ZhobnvRQ49KN4bF66
Yolano District Pinewood Derby Championship Race - Jun 1, 2019
Saturday, June 1, 2019 from 9am to 12 noon
Solano Community College Vacaville Campus MP Room. 2001 North Village Parkway
Vacaville, CA 95688
Solano County Cleanup Days - Jun 1, 2019
The Solano Resource Conservation District asked for our help to keep our parks green and support the Solano County Earth Day Cleanup and the World Environment Day Cleanup
Solano County Earth Cleanup Day (multiple dates/places in April) Flyer
World Environment Day at Lake Solano (6/1/19) Flyer
Change In Meeting Date for the June District Roundtable
The June District Roundtable meeting will be changed to June 6th one time only. It will still be held at 355 Pheasant Run Dr, Dixon, CA 95620 (Tremont Elementary School Multipurpose Room). The time will be announced soon since the District Committee meeting is also meeting on this date at 7:30 PM.
Yolano District Camp Carswell Twilight Camp (June 19-21, 2019 5:30 - 9:00PM Each Night)
Grasslands Regional Park 30475 County Road 104, Davis CA - (Mace Blvd. 3.5 miles south of Davis)
This was previously called 'Cub Camp'
Webpage with all Forms to Download & more details
Registration Process Listed on Flyer (Talk to your Pack Camp Coordinator)
Volunteer and Staff Training is on June 6th, 6:30pm, at Tremont School in Dixon. This training is MANDATORY for all adult AND scout volunteers.
Shooting Sports Weekend - Jun 13-15, 2019
Change In Meeting Place and Dates for the District Roundtable and District Leadership Team Meeting!
As we will be part of the newly formed Yolano District as of January 1st, we would like to let you know that the dates and locations of our district meetings and events have changed!
Meeting Place for the Roundtable, District Leadership Meeting, and Commissioner Team Meeting are now at:
Treamont Elementary School Multipurpose Room, 355 Pheasant Run Dr, Dixon, 95620
District Roundtable: 3rd Thursday of the Month 7:30 PM - For all leaders, there are great breakouts for Cub and Boy Scout leaders.
District Leadership Team Meeting: 1st Thursday of the month 7:30 PM - For District Committee Members
Commissioner Team Meeting: 1st Thursday of the month 6:30 PM - For All Unit Commissioners
New Yolano District Newsletter: April 2019 Issue
2018 Cub Camp Advancement
Current Adult Leader & Youth Training
View the current list of training sessions (2019-2020) here (updated March 27, 2019)
Updated Unit Directory
List of Units and Their Webpages
District Roundtable, District Committee Meetings, & Commissioner Team Meetings are now in Dixon (Note: Meetings Changed to Dixon in January 2019)
District Committee Meeting starting at 7:30 PM on the 1st Thursday of the month
District Roundtable starting at 7:30 PM on the 3rd Thursday of the month
Commissioner Team Meeting starting at 7:30 PM on the 3rd Thursday of the month, ALL at:
355 Pheasant Run Dr, Dixon, CA 95620 (Tremont Elementary School Multipurpose Room)
------------------------------------------------------
Want to keep up with Yolano District breaking news and special announcements?
-Subscribe to our text message feed
-We promise to keep the messages to a minimum
-Text @yolanobsa to 81010 to join (or signup at https://www.remind.com/join/yolanobsa)
------------------------------------------------------
Connecting volunteers with opportunities to care for others and improve out communities.
Just enter the zip code of the community which your unit would like to help.
------------------------------------------------------
------------------------------------------------------
---
------------------------------------------------------
Invitation to Yolo District 'Cub' Roundtable
------------------------------------------------------
District Committee Meeting:
Who: District Officers, Unit Chairs (or designee) and Unit Charter Organization Representatives
When: First Thursday of each month at 7:30 pm
Where: 355 Pheasant Run Dr, Dixon, CA 95620 (Tremont Elementary School Multipurpose Room)
District Roundtable Meeting:
Who: All Unit Chairs, Scoutmasters, Cubmasters, Webelos Leaders, Den Leaders, Tiger Partners and other unit leaders
When: Third Thursday of each month at 7:30 pm
Where: 355 Pheasant Run Dr, Dixon, CA 95620 (Tremont Elementary School Multipurpose Room)
------------------------------------------------------
Upcoming Events
| | |
| --- | --- |
| | |
| | Canceled Yolano District ~ Golden Empire Council LEADER SPECIFIC TRAINING For All Cub Scouts, Scouts-BSA, and Venturing Leaders When:... |
| | |
| | 2019 Cub Leader Extravaganza Attention all Cub Scout Leaders! Do you want to be ready for the next program year?....For Free Do you... |
| | Yolano District Scouter, The purpose of the district committee is to serve youth in the Yolano District by providing assistance to units with... |
| | Instructions for the Ordeal Registration If you are a Candidates for NEW Ordeal Memberships plan to arrive Friday by 7:30PM Link >> To... |
| | June 19 - June 21, 2019 Wed - Thurs - Fri 5:30pm - 9pm Grasslands Regional Park 30475 County Road 104 (Mace Blvd. 3.5 miles south of... |
| | This month's Roundtable Meeting will be at the Yolo Grasslands Park while Camp Carswell is taking place at the same venue. It will have a... |
| | Yolano District Scouter, The purpose of the district committee is to serve youth in the Yolano District by providing assistance to units with... |
What's happening around the District