Welcome to the Yolano District
Serving Scouting in the communities of Davis, Woodland, Dixon, Winters, Vacaville, West Sacramento, Clarksburg, Rio Vista, and Esparto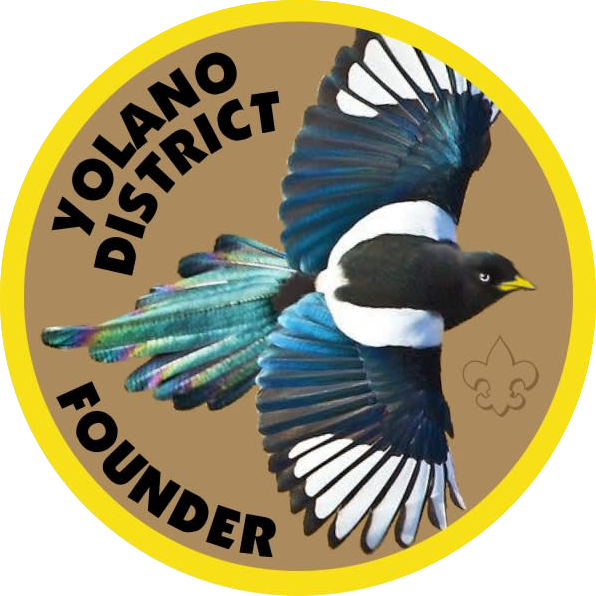 Where Scouts have fun while learning about the outdoors, responsibility, citizenship, nature and a whole lot more. Scouts are grouped by age and maturity level, gaining in experience and responsibility as they grow. Click on the "Join Scouting" tab above for information on age requirements and joining.
THE AIMS AND METHODS OF BOY SCOUTING:
The Scouting program has four specific objectives, commonly referred to as the "Aims of Scouting." They are character development, citizenship training, leadership, and mental and personal fitness.
Yolano District is responsible for carrying out four standard functions: membership, finance, program, and Unit Service.
---
NEW: Yolano District Calendar

-

Click Link
Yolano Merit Badge Traildrive - Dec. 10, 2022
Order of the Arrow, Achach Chapter will be hosting the event on December 10, 2022, 8:30am-4:30pm at Dixon Montessori Charter School. There will be morning and afternoon sessions with a lunch break in between.
Registration is $20 in advance and $25 on-site. (Price includes a patch, snacks, and course materials.) Please bring a sack lunch.
Yolano District Social & Fundraiser December 15, 2022
Location: Lamppost Pizza, 1260 Lake Blvd #113, Davis, CA 95616
Time: 4PM-9PM, Dine-in or Take-out. 30% of profit will go to Yolano District by just mentioning "Scouts".
Coupons, specials, and deliveries do not apply.
District Social at 7PM.
Yolano District Life to Eagle Seminar November 29, 2022 6:30 PM
Location: Veteran's Memorial Building in Vacaville - 549 Merchant Str, Vacaville.
Time: 6:30 PM
Questions: Kevin Hein (Kevanaheim@aol.com) or Greg Duffy (gregs.email707@gmail.com)
Yolano District Recognition Dinner January 19, 2023
Location: Woodland Scout Cabin, 515 Lincoln Ave, Woodland
Time: 6:30 - 9:00 PM
Nominate those volunteers in your unit or district that need to be recognized
Nominations Page (Nomination deadline is Wednesday, November 30, 2022)
GEC Council Dinner 2023 6:30PM on February 4, 2023
Location: Davis Veterans Memorial Center, 203 East 14th Street, Davis, 95616
Registration coming soon
Come join us to recognize outstanding Council Volunteers
2023 Klondike Derby February 10-12, 2023
Location: 6600 Donner Rd, Tahoe Vista, CA 96148
Cold weather builds character
Contact: Klondike Mayor, Brian Meux at bmeux@sbcglobal.net
National Youth Leadership Training, February, June, & September 2023
The 1st will be February 18th-20th and 25th-26th at Nor Cal Adventure Area
The 2nd will be June 11-16, 2023 at Camp McConnell, Livingston, CA (Joint course with Greater Yosemite Council )
3rd will be Sept 2-4th and 15-17th, 2023 at Nor Cal Adventure Area

Registration for the February course is now live at the link below:
https://www.gec-bsa.org/training/nylt/62948
Next Yolano District Connections - February 16, 2023 7:00 PM
Minutes for Most Recent Meeting Here
Minutes for Past Meetings Here
Yolano District Connections Meetings are in person and held four times a year in February, May, August, and November.
November's District Connections Meeting will be in person at the Woodland Log Cabin (515 Lincoln Ave., Woodland, CA 95695).
Next Yolano District Roundtable Meeting On Zoom March 16, 2023 7:00 PM
Please contact Tyler for zoom link
Summer Camps 2023
Lassen for Cubs and Winton for Scouts BSA
Questions: camping@gec-bsa.org
Registration: https://www.gec-bsa.org/camping/63183
25th World Scout Jamboree August 1-12, 2023
Registration is now open. See more planing details on page two of the March 2022 Newsletter
Wood Badge Will Be Offered In Fall of 2023
Dates will be Friday, September 22nd through Sunday September 24th, 2023 PLUS Friday, October 13th through Sunday October 15th, 2023.
Registration coming and will be available here in the future.
Yolano Merit Badge Counselor Notes
Email from Yolano Advancement Chair, Linda Paumer on January 30, 2022 (Click to download)
Current Adult Leader & Youth Training
Updated Unit Directory
List of Units and Their Webpages
------------------------------------------------------
Want to keep up with Yolano District breaking news and special announcements?
-Subscribe to our text message feed
-We promise to keep the messages to a minimum
-Text @yolanobsa to 81010 to join (or signup at https://www.remind.com/join/yolanobsa)
------------------------------------------------------
Connecting volunteers with opportunities to care for others and improve out communities.
Just enter the zip code of the community which your unit would like to help.
------------------------------------------------------
------------------------------------------------------
------------------------------------------------------
Upcoming Events
| | |
| --- | --- |
| | The Annual Business meeting will be held at Camp Pollock on Wednesday, December 7, 2022 at 4:30 pm. Location address is 1501 Northgate Blvd,... |
| | Greetings Aquatics Enthusiasts! Michael Sullivan is inviting you to a scheduled Zoom meeting. Join Zoom... |
| | Greetings Aquatics Enthusiasts! Michael Sullivan is inviting you to a scheduled Zoom meeting. Join Zoom... |
| | |
| | Shooting Sports Committee invites anyone to their monthly meeting each 2nd Wed of each month at 6:30PM at the council office 251 Commerce Circle... |
| | As part of the event, Lamppost Pizza will donate 30% of your pizza orders from 4-9 pm for dine-in and takeout (NO... |
| | |
| | Greetings Aquatics Enthusiasts! Michael Sullivan is inviting you to a scheduled Zoom meeting. Join Zoom... |
| | |
| | Shooting Sports Committee invites anyone to their monthly meeting each 2nd Wed of each month at 6:30PM at the council office 251 Commerce Circle... |
| | |
| | |
| | Greetings Aquatics Enthusiasts! Michael Sullivan is inviting you to a scheduled Zoom meeting. Join Zoom... |
| | |
What's happening around the District
---
Yolano District Newsletter
Current - June 2022
Yolano District Newsletter - Archives
(Archives of Past Issues of The Pleasant Pheasant: Click Here)
---
Website Corrections & Additions
Please send website corrections and additions to Tom Sands, the Yolano District Webmaster
-Updated on 2022-11-21