Welcome to the newly formed 'Yolano' District
Serving Scouting in the communities of Davis, Woodland, Dixon, Winters, Vacaville, and Esparto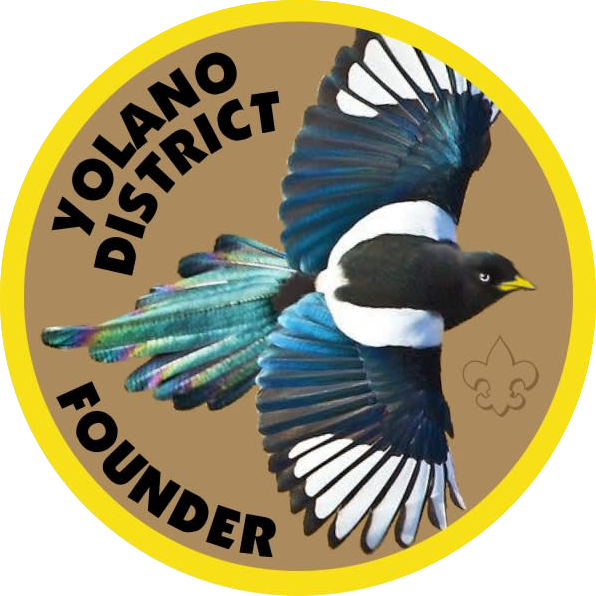 Where Scouts have fun while learning about the outdoors, responsibility, citizenship, nature and a whole lot more. Scouts are grouped by age and maturity level, gaining in experience and responsibility as they grow. Click on the "Join Scouting" tab above for information on age requirements and joining.
THE AIMS AND METHODS OF BOY SCOUTING:
The Scouting program has four specific objectives, commonly referred to as the "Aims of Scouting." They are character development, citizenship training, leadership, and mental and personal fitness.
Yolano District is responsible for carrying out four standard functions: membership, finance, program, and unit service.
---
Roundtable is now "District Connections"
Next "District Connections" is on February 6, 2020 at 7:00 PM (in Vacaville, place TBA)
The quarterly "District Connections" has replaced what was previously monthly Roundtable meetings. In the future, there will be a District Connection each February, May, August, and November. The meeting place will move to different parts of the Yolano District each time.
Thanksgiving at Camp Lassen - November 30, 2019
4:00 PM, November 30th to December 1st, 2019 at Camp Lassen Forest Ranch, CA
Registration Deadline on November 25, 2019 (Thanks Ranchero West District for hosting). All are invited. This is an opportunity for past camp staffers to reconnect, see what is new and in development, and to share their stories. Attendees can relax, hang out, work on camp improvement projects, or participate in tasks to help close camp for the winter. Weather dependent games will be available to play inside or outside. Potential staffers can get application information, orientation, and contribute to program development. Opportunities for open discussion and comment will be encouraged.
District Winter Social - December 5, 2019
7:00 - 9:00 PM at Lamp Post Pizza, 1260 Lake Blvd #113, Davis, CA 95616
A percentage of all onsite and take home sales benefit the Yolano District.
BSA Nova Engineering - iFLY Indoor Skydiving - December 15, 2019
2:00 - 5:30 PM 118 Harding Boulevard Roseville, CA 95678
Boy Scouts of America with the Sacramento Kings - Thursday, January 2, 2020
Game Starts at 7pm
Klondike Derby - January 31-February 2, 2020
Place and Details TBA
Merit Badge Trail Drive - January 25 & February 8, 2020
Place in Vacaville and Details TBA
Council Dinner - February 8, 2020
Details TBA
Council Connections Wednesday, March 4, 2020
7pm at Saint Mel Catholic Church, 4745 Pennsylvania Ave, Fair Oaks, CA 95628.
Camporee - April 24-26, 2020
Details TBA
Camp Carswell - June 17-20, 2020
Details TBA
Centennial Rally - Sepember 26, 2020
At the Sacramento Railroad Museum - Details TBA
Centennial Day of Service - October 24, 2020
Details TBA
2019 Camporee and Family Camp Surveys
No one is perfect and we certainly are not, though we strive to improve. To do that, we need your help. Feedback is a gift, and your constructive feedback can help us improve Camporee and Family Camp next year. Please circulate the following links with everyone who attended, both youth and adults.
Camporee: https://forms.gle/rQ3etqYR4jQL7sZD7
Family Camp: https://forms.gle/ZhobnvRQ49KN4bF66
---
District Connections: Quarterly (Feb, May, Aug, and Nov) at 7:00 PM - For all leaders, there are great breakouts for Cub and Boy Scout leaders.
Commissioner Team Meeting: TBA - For All Unit Commissioners
---
Latest Yolano District Newsletter: October 2019 Issue
2019 Cub Camp Advancement
Current Adult Leader & Youth Training
View the current list of training sessions (2019-2020) here (updated August 31, 2019)
Updated Unit Directory
List of Units and Their Webpages
District Committee Meeting starting at 6:30 PM on the 1st Thursday of the month at:
355 Pheasant Run Dr, Dixon, CA 95620 (Tremont Elementary School Multipurpose Room)
District Connections Meeting starting at 7:00 PM in Feb, May, Aug, and Nov at:
Rotating places
Commissioner Team Meeting TBA at 7:30 PM on the 3rd Thursday of the month, at:
TBA
------------------------------------------------------
Want to keep up with Yolano District breaking news and special announcements?
-Subscribe to our text message feed
-We promise to keep the messages to a minimum
-Text @yolanobsa to 81010 to join (or signup at https://www.remind.com/join/yolanobsa)
------------------------------------------------------
Connecting volunteers with opportunities to care for others and improve out communities.
Just enter the zip code of the community which your unit would like to help.
------------------------------------------------------
------------------------------------------------------
------------------------------------------------------
District Committee Meeting:
Who: District Officers, Unit Chairs (or designee) and Unit Charter Organization Representatives
When: First Thursday of each month at 6:30 pm
Where: 355 Pheasant Run Dr, Dixon, CA 95620 (Tremont Elementary School Multipurpose Room)
District Connections Meeting:
Who: All Unit Chairs, Scoutmasters, Cubmasters, Webelos Leaders, Den Leaders, Tiger Partners and other unit leaders
When: In Feb, May, Aug, and Nov at 7:00 pm
Where: Rotating places
------------------------------------------------------
Upcoming Events
| | |
| --- | --- |
| | What: Golden Empire Council Annual Meeting When:... |
| | Yolano District Scouter, The Yolano District Committee Team Meetings have been converted to the quarterly District Connections Meeting. Info on the... |
| | |
| | Yolano District Scouter, The Yolano District Committee Team Meetings have been converted to the quarterly District Connections Meeting. Info on the... |
| | Cal Expo Fair Grounds, Sacramento, CA Youth Fair Starts Friday. Free Admission for Uniformed Scouts and Scouters. Please consider bringing your... |
| | |
| | Yolano District Scouter, The Yolano District Committee Team Meetings have been converted to the quarterly District Connections Meeting. Info on the... |
| | |
| | |
| | Yolano District Scouter, The purpose of the district committee is to serve youth in the Yolano District by providing assistance to units with... |
| | Scouting for Food - door hanger... |
| | Winter Fellowship March 13-15, 2020 Camp Tamarancho 1000 Iron Springs Road, Fairfax, CA 94930 Winter Fellowship will be taking place on... |
| | Scouting for Food - Collection/Drop... |
| | Yolano District Scouter, The Yolano District Committee Team Meetings have been converted to the quarterly District Connections Meeting. Info on the... |
What's happening around the District
---
Current - Nov 2019
Yolano District Newsletter - Archives
(Archives of Past Issues of The Pleasant Pheasant: Click Here)
---
Website Corrections & Additions
Please send website corrections and additions to Tom Sands, the Yolano District Webmaster
-Updated on 2019-10-06