Welcome to the Capital City District
The Capital City district serves the communities of West Sacramento, Clarksburg, Pocket Area, Mid-town Sacramento, East Sacramento, Rosemont, Rancho Cordova, Gold River, Sloughhouse and Rancho Murieta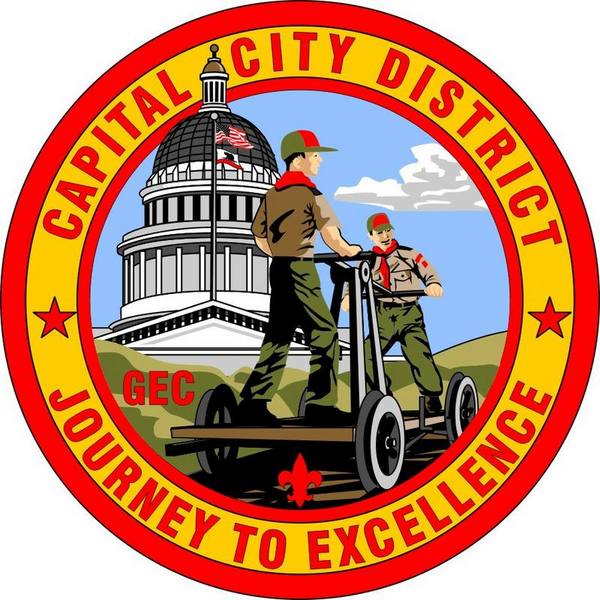 District Key 3
Chairperson - Walter Neal
Commissioner - Norm Tanaka
Executive - Mac Contreras
New! 2019 Capital City Calendar at a glance.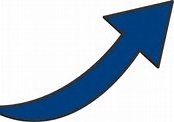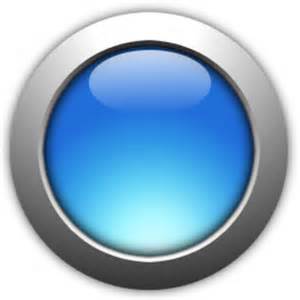 Calendar Updated 01/11/2019
Capital City Roundtable
Second Thursday of the Month at 7:00 PM
The Church of Jesus Christ of Latter-Day Saints, 1101 51st Street, Sacramento
Congratulation to 2018 Silver Beaver Keith Adachi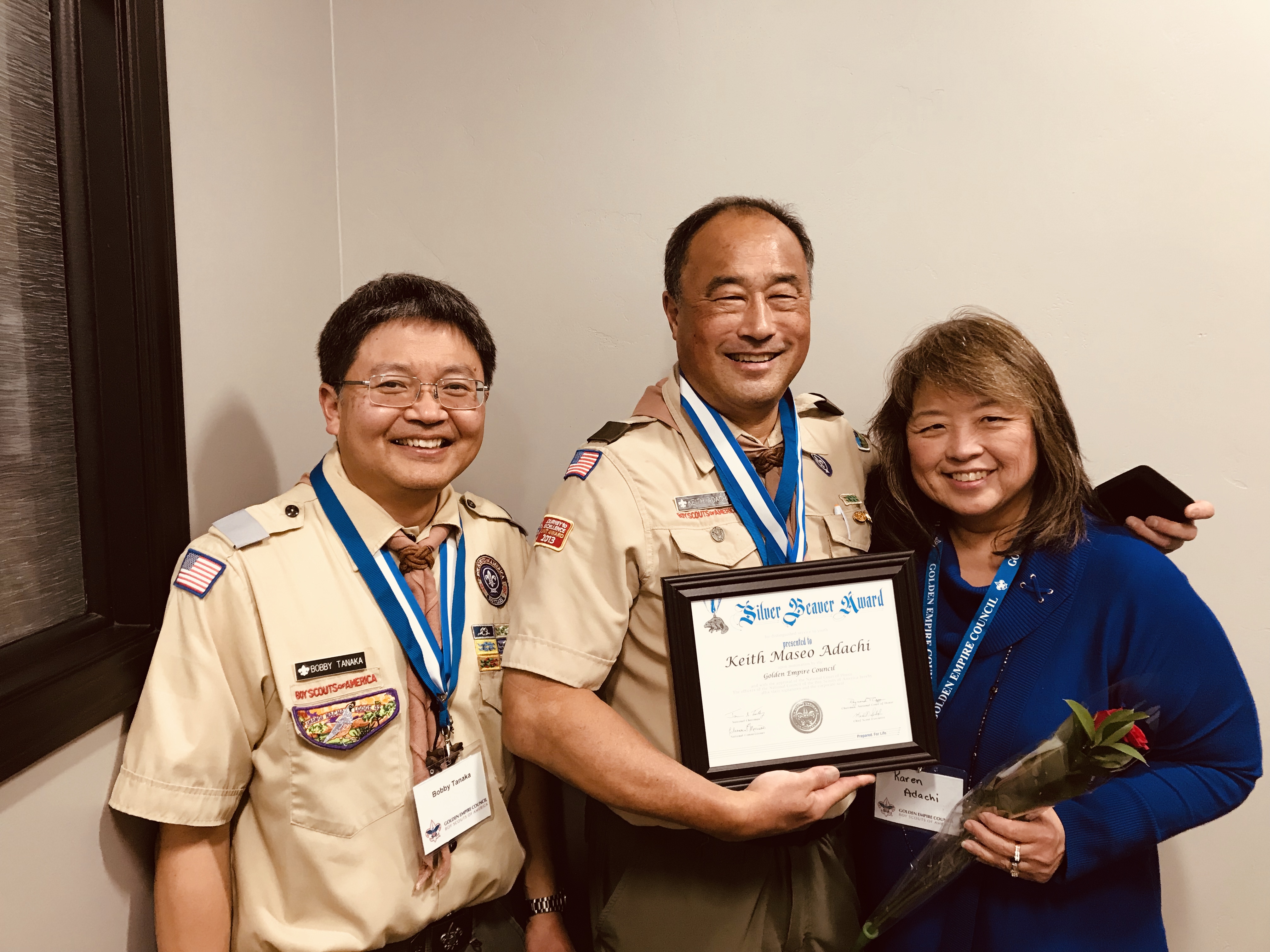 Bobby Tanaka (escort), Keith Adachi and Karen Adachi
Problems/Questions
Contact Johnie Pennington, District Webmaster, at jaypennz@comcast.net.
What's Happening Around the District
Upcoming District Events
| | |
| --- | --- |
| | |
| | Life to Eagle Seminar Have you earned or about to earn your Life Rank? Are you motivated to achieving your rank of Eagle? Then you and your parent... |
| | New Capital City District Roundtable Location Beginning Thursday, August 8, 2019, the Capital City District Roundtable will be at Cordova Church of... |
| | Amangi Mayi Monthly Chapter Amangi Mayi Chapter is part of the Golden Empires Council Order of the Arrow Amangi Nacha Lodge. The chapter meets... |
| | |
| | Amangi Mayi Monthly Chapter Amangi Mayi Chapter is part of the Golden Empires Council Order of the Arrow Amangi Nacha Lodge. The chapter meets... |
| | What is a District Roundtable? This letter is to let you know about an opportunity you have to help the Capital City District become the best... |
| | Leader Specific Training For all Cub Scouts, Boy Scouts and Venturing Leaders When: Sept 21, 2019 Where: TDB Time: Registration/Check-in begins... |
| | |
| | Amangi Mayi Monthly Chapter Amangi Mayi Chapter is part of the Golden Empires Council Order of the Arrow Amangi Nacha Lodge. The chapter meets... |
| | What is a District Roundtable? This letter is to let you know about an opportunity you have to help the Capital City District become the best... |
| | Capital City Outdoor Training BALOO & IOLS WHEN: Friday and Saturday, Oct 18 - 19, 2019 BALOO (Basic Adult Leader Outdoor... |
| | |
| | Amangi Mayi Monthly Chapter Amangi Mayi Chapter is part of the Golden Empires Council Order of the Arrow Amangi Nacha Lodge. The chapter meets... |
Upcoming Council Events
| | |
| --- | --- |
| | CLICK HERE TO REGISTER! GOLDEN EMPIRE COUNCIL 2019 NATIONAL YOUTH LEADERSHIP TRAINING NYLT 2019-2 Course -... |
| | 2019 Scouts BSA Adult Leadership Summit Attention all Scouts BSA Leaders! Do you want to be ready for the fall?....For Free Do you... |
| | Life to Eagle Seminar Have you earned or about to earn your Life Rank? Are you motivated to achieving your rank of Eagle? Then you and your parent... |
| | Instructions for the Ordeal Registration If you are a Candidates for NEW Ordeal Memberships plan to arrive Friday by 7:30PM Link >> To... |
| | We invite you to attend our Shooting Sports Sports Committee meeting each 2nd Wed of the month to help us provide a fun and safe shooting sports... |
| | Scout-Me-In TOO for Scouts BSA members Golden Empire Council's Family Scouting Task Force would like... |
| | HAT Time! Let's get together at the council office this Wednesday for our next HAT Meeting. See you there at 6:30 PM. Call into the... |
| | We invite you to attend our STEM Committee Meeting each 3rd Wednesday of the month to help us provide a fun SCIENCE focused program for youth in... |
| | Do your Scouts like to go backpacking? Have you completed a 50-miler? A week on the trail carrying everything you need to survive on your... |
| | We invite you to attend our Shooting Sports Sports Committee meeting each 2nd Wed of the month to help us provide a fun and safe shooting sports... |
| | Registration closes August 12--- we need to order t-shirts GEC Shooting Sports... |
| | Wood Badge Reunion You are cordially invited to attend the Third Annual Wood Badge Reunion September 14, 2019 11:00am to 2:00pm 407 Kirby... |
| | HAT Time! Let's get together at the council office this Wednesday for our next HAT Meeting. See you there at 6:30 PM. Call into the... |
| | We invite you to attend our STEM Committee Meeting each 3rd Wednesday of the month to help us provide a fun SCIENCE focused program for youth in... |