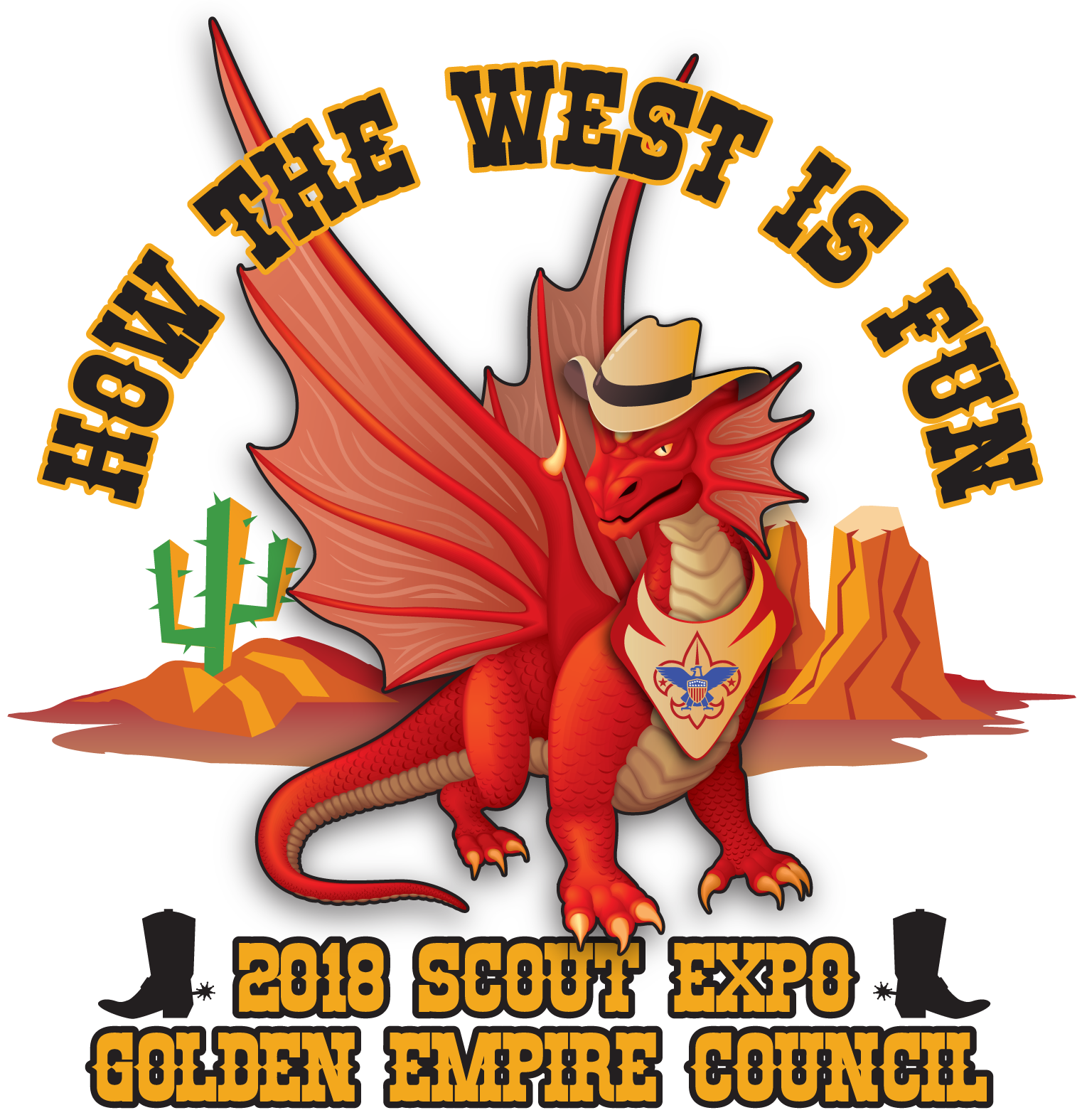 Scout Expo Registration
Registration Is Open
Remember we are guests of the
United States Air Force and their security
is pretty tight, so we have to get vital
information to them early.
Registration Dates
Special Notes
April 18, 2018 - Registration Opens
NO firearms are allowed on Beale AFB, even for those who serve in a
law enforcement capacity. No exceptions!

August 20, 2018 - $5.00 Fee (per person) Increase

Contact the Scout Expo registrar to make a change (add/delete) to an existing registration.

September 4, 2018 - Registration Closes 11:55 pm

Do not register more than one Unit per registration.
NEW


Before contacting the Scout Expo Registrar please check the Frequently Asked Questions website
Registration Matrix
Cub Scouts/Siblings
Webelos
Boy Scouts
Information Needed
General
Info
Youth
Adults
(18 or older)
General
Info

Youth
(Yes, Correct
Fee)

Adults
(18 or older)
General
Info
Youth
Adults
(18 or older)
Fee
$25.00
$25.00
$50.00
$40.00
$40.00
$40.00
Unit Type and Number
X
X
X
LDS Unit
X
X
X
District
X
X
X
Council
X
X
X

Is this a unit or family or unit




registration

X
X
Unit Information (Group Leader)
Registrar
(Person to be contacted for
registration issues)
X
Registrar Email
X
Registrar Phone
(Primary Telephone)
X
Arrival Packet Recipient
(Who get this info)
X
Arrival Packet Recipient Email
X
Arrival Pack Recipient Phone
X
Primary On-site Leader
X
X
X
Primary On-site Leader Email
X
X
X
Primary On-site
Leader Phone (Cell Number)
X
X
X
Secondary On-site Leader
X
Secondary On-site
Leader Email
X
Secondary On-site
Leader Phone (Cell Number)
X
Arrival/Departure Date
X
X
X
Number of vehicles pulling
a utility/cargo trailer
X
X
Number of Vehicles parking
onsite(, other than pulling
a utility/cargo trailer)
X
X
X
Family and/or Individual Information
Name
X
X
X
X
X
X
Birthdate
X
X
X
X
X
X
Spouse/Parent Name
(Parent's Name)
X
X
Primary Telephone (Cell)
(Parents/Adult)
X
X
X
X
Primary Email
(Parents/Adult)
X
X
X
T-shirt Size
X
X
X
X
X
X
Meal Plan (Extra Fee)
X
X
Select Sibling or Cub Scout
Rank as of October 20, 2018
X
X
Are you an OA member helping
the Lodge?
X
X
If helping OA, Chapter
X
X
If helping OA, camping with
UNIT or Lodge
X
X
U.S. Air Force Info
Driver's License or State Id
Card Number
X
X
X
State of Issuance
X
X
X
Are you a U.S. Citizen?
X
X
X
If Foreign National
What is your
nation of citizenship
X
X
X
Visa type? (Immigrant,
Non-immigrant, No Visa)
X
X
X
Your arrival date in the U.S.
X
X
X
Date scheduled to depart
the U.S.
X
X
X
Current Address
X
X
X
Registration Link
Cub Scouts
Webelos Scouts
Boy Scouts
Registration Matrix
Venturing, Explorer, Sea Scouts
Driving
Only
Staff
Contractors, Exhibitors
& Vendors
Information Needed
General
Info
Youth
(13 - 20)
Adults
(18 or older)
Adults
(18 or older)
Youth
Adults
(18 or older)
Adults
(18 or older)
Fee
$40.00
$40.00
$0.00
$25.00
$25.00

$0.00

Unite Type and Number
X
X
LDS Unit
X
District
X
X
Council
X
X
Key Contracts Information
Role
X
Registrar
(Person to be contacted for
registration issues)
X
X
Registrar Email
X
X
Registrar Phone
(Primary Telephone)
X
X
Arrival Packet Recipient
(Who get this info)
X
X
Arrival Packet Recipient Email
X
X
Arrival Pack Recipient Phone
X
X
Primary On-site Leader
X
Primary On-site Leader Email
X
Primary On-site
Leader Phone(Cell Number)
X
Secondary On-site Leader
X
Secondary On-site
Leader Email
X
Secondary On-site
Leader Phone (Cell Number)
X
Arrival/Departure Date
(Dates will be on the base)
X
X
X
X
Days someone from
your organization will be at
Beale AFB
X
Number of vehicles pulling
a utility/cargo trailer
X
X
X
X
Number of Vehicles parking
onsite, other than pulling
a utility/cargo trailer
X
X
X
Individual Information
Name
X
X
X
X
X
X
Birthdate
X
X
X
X
X
X
Primary Phone (Cell)
X
X
X
X
Primary Email
X
X
X
X
T-Shirt Size
X
X
X
X
If Boy Scout, do you also
want a Boy Scout T-shirt
X
X
Meal Plan (Extra Fee)
X
X
Are you an OA member helping
the Lodge?
X
X
X
X
If helping OA, Chapter
X
X
X
X
If helping OA, camping with
UNIT or Lodge
X
X
Dats this individual will be
at Beale AFB
X
Birthday ON or AFTER
October 18, 2000
X
X
U.S. Air Force Info
(Including Venturing youth 18 - 20)
Driver's License or State Id
Card Number
X
X
X
X
X
State of Issuance
X
X
X
X
X
Are you a U.S. Citizen?
X
X
X
X
X
If Foreign National
(Including Venturing youth 18 -20)
What is your
nation of citizenship
X
X
X
X
X
Visa type? (Immigrant,
Non-immigrant, No Visa)
X
X
X
X
X
Your arrival date in the U.S.
X
X
X
X
X
Date scheduled to depart
the U.S.
X
X
X
X
X
Current Address
X
X
X
X
X
Registration Link
Venturing, Explorer and Sea Scouts
Driving Only
Staff
Contractors, Exhibitors & Vendors