STEM and NOVA
STEM - Science, Technology, Engineering and Mathematics
STEM is part of an initiative the Boy Scouts of America has taken on to encourage the natural curiosity of youth members and their sense of wonder about these fields through existing programs. From archery to welding, Scouts can't help but enjoy the wide range of STEM-related activities. To support this initiative, the BSA developed the Nova Awards program so that youth members have fun and receive recognition for their efforts.
What Are the Nova Awards?
The Boy Scouts of America developed the Nova Awards program to excite and expand a sense of wonder in our Scouts. By working with an adult counselor or mentor, the various modules allow them to explore the basic principles of STEM and discover how fun and fascinating STEM can be. The Supernova awards are offered for those who enjoy a super challenge. See Nova Awards Program and discover how the Nova Awards program can help youth become "Prepared. For Life."
Committee Meeting
Date: Monthly, 3rd Wednesday
Time: 7:00pm
Location: 251 Commerce Cir, Sacramento, CA 95815
Contact: Charity Atwell
STEM Activities Handbook
Now available.. download today!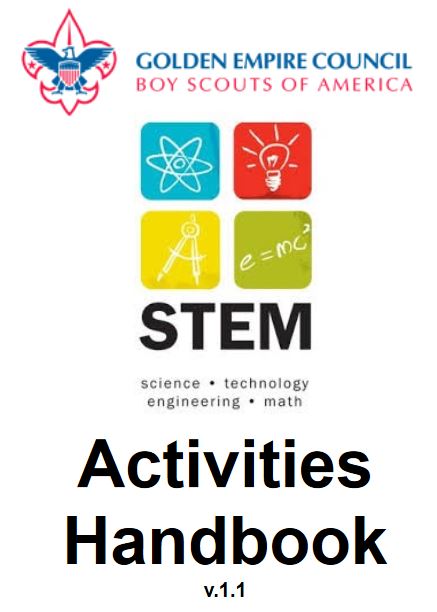 Mark your calendars for these upcoming events!!
Summer 2017- Camp Winton, High Sierra STEM at Camp Program. Camp Director - Dave Sewell has listened to OA, Crews and Troops throughout the Council to create a FUN one-of-a kind STEM at Camp adventure. Both Nova and Supervnova Merit Badges will be offered. Camp reservations are filling fast. A limited number of Youth Staff leadership positions are still available. Contact Dave Sewell today and make a plan to create your STEM at Camp Adventure.

August 21, 2017 - The Great American Eclipse ~9:10 a.m. - 1:10p.m. PST
People across the United States will see the sun disappear behind the moon, turning daylight into twilight, causing the temperature drop rapidly and revealing massive streamers of light streaking through the sky around the silhouette of the moon. On that day, America will fall under the path of a total solar eclipse .
For four hours surrounding the eclipse, NASA will host an Eclipse Megacast providing unique broadcast coverage across multiple phenomenon programming, and allow NASA to interact with the scientists and member of the public across the country as they watch and study the eclipse. The Megacast will be picked up by NASA TV as well as many other local and national TV stations. In all, hundreds of millions, worldwide, will be able to experience and learn about the eclipse through NASA programming.
The so-called Great American Total Solar Eclipse will darken skies all the way from Oregon to South Carolina, along a stretch of land about 70 miles (113 kilometers) wide. People who descend upon this "path of totality" for the big event are in for an unforgettable experience.
REMEMBER: Looking directly at the sun, even when it is partially covered by the moon, can cause serious eye damage or blindness. NEVER look at a partial solar eclipse without proper eye protection . See our complete guide to find out how to view the eclipse safely.
Did you know there is an official BSA 2017 Solar Eclipse Patch for Cubs, Girl Scouts, Scouts, Crews, Sea Scouts, Varsity, and Scouters?. These patches will be available by PREORDER ONLY. National is only producing 5,000 patches so they are limited.
Get involved and help yourself and the Golden Empire Council achieve a National Participation Award!!! Click HERE to learn more.
STEM & Nova Information and Materials