STEM and NOVA
STEM - Science, Technology, Engineering and Mathematics
STEM is part of an initiative the Boy Scouts of America has taken on to encourage the natural curiosity of youth members and their sense of wonder about these fields through existing programs. From archery to welding, Scouts can't help but enjoy the wide range of STEM-related activities. To support this initiative, the BSA developed the Nova Awards program so that youth members have fun and receive recognition for their efforts.
What Are the Nova Awards?
The Boy Scouts of America developed the Nova Awards program to excite and expand a sense of wonder in our Scouts. By working with an adult counselor or mentor, the various modules allow them to explore the basic principles of STEM and discover how fun and fascinating STEM can be. The Supernova awards are offered for those who enjoy a super challenge. See Nova Awards Program and discover how the Nova Awards program can help youth become "Prepared. For Life."
Committee Meeting
Date: Monthly, 3rd Wednesday
Time: 7:00pm
Location: 251 Commerce Cir, Sacramento, CA 95815
Contact: Ben Heningburg
STEM Activities Handbook
Now available.. download today!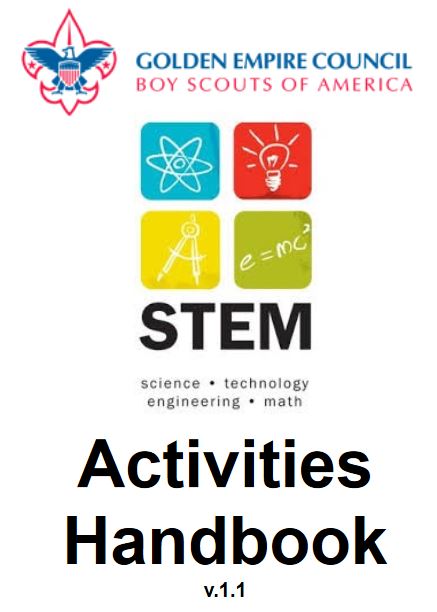 Mark your calendars for these upcoming events!!
Sacramento Regional
Science Technology Engineering Mathematics Fair
17th Annual Regional STEM Fair
March/April 2018
The Sacramento Regional STEM Fair is a 12-county science, technology, engineering, and math competition for students in grades 6-12. Scouts in grades 5-11 can participate in a non-judged showcase division. We encourage students of all ages to attend our Fair as an educational field trip - not only can they learn from their peers about a multitude of STEM projects, but they can also visit the College & Career Expo to find out more about career pathways into STEM.
American River College, 4700 College Oak Drive, Sacramento, CA 95841
How to Participate
Scouts and Crews can participate in the Sacramento Regional STEM Fair by entering their STEM project into either the competition or showcase categories. Students may also volunteer.
Parents are invited to support their students & attend workshops as well as the College & Career Expo. Parents are also encouraged to sign up as general volunteers.
Important Dates
October/November- Project registration
December /January - Record Observations
January/February - Prepare 2-3 minute presentation
February 16, 2018 - Final Deadline to register project
National News!
STEM & Nova Information and Materials