The 2017 Camp Card Sale is Here!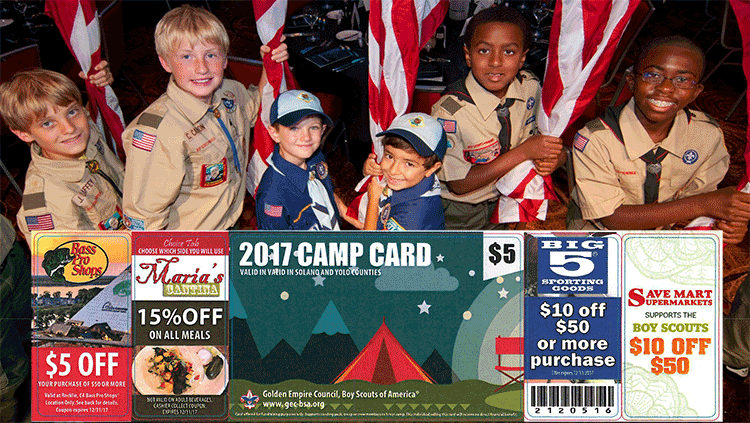 Order your 2017 Camp Cards Now! Complete the survey, click here.
The 2017 Camp Card Program is looking for new and continuing vendors.
If you are interested in particpating as a vendor, please contact Chuck. Brasfeild or your local District Executive.
2016 Vendors!!
New & Exciting Partnership!!
TBA
Youth Incentives
Every Cub Scout who sells X or more cards and Boy Scout who sells Y or more cards will also be able to select one prize from the list below. Scouts are only eligible for one of these prizes. Scholarships are not transferable and have no cash value; they may only be redeemed at a Camp owned and operated by the Golden Empire Council in 2017. There are no partial scholarships and no substitutions.
Useful Documents and Links
A Scout is Thrifty: The 9th point of the Scout Law says that, "A Scout works to pay his own way and to help others."
For more information, please contact Chuck Brasfeild at Chuck Brasfeild.