Welcome to the Yolano District
Serving Scouting in the communities of Davis, Woodland, Dixon, Winters, Vacaville, West Sacramento, Clarksburg, Rio Vista, and Esparto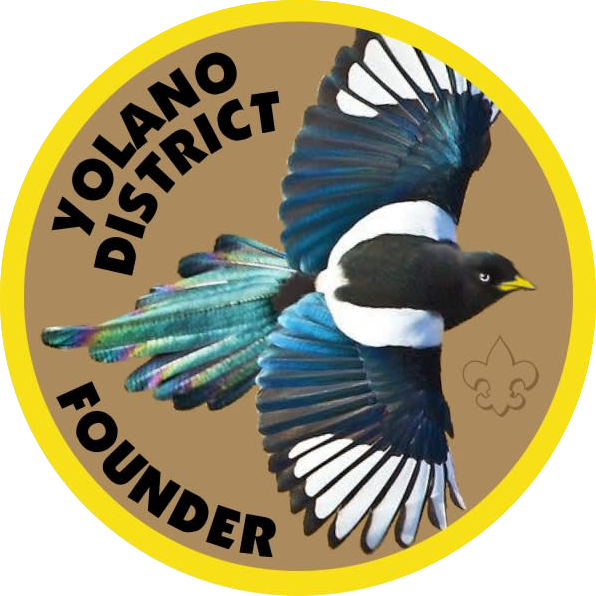 Where Scouts have fun while learning about the outdoors, responsibility, citizenship, nature and a whole lot more. Scouts are grouped by age and maturity level, gaining in experience and responsibility as they grow. Click on the "Join Scouting" tab above for information on age requirements and joining.
THE AIMS AND METHODS OF BOY SCOUTING:
The Scouting program has four specific objectives, commonly referred to as the "Aims of Scouting." They are character development, citizenship training, leadership, and mental and personal fitness.
Yolano District is responsible for carrying out four standard functions: membership, finance, program, and unit service.
---
Note from the District Chairman - Click Link
Camp Carswell - July 20-24, 2020
Camp Carswell CHANGES
In order to provide a fun and safe twilight camp experience for our Yolano Cub Scouts the following changes have been made:

Camp Carswell will run M-F, July 20-24, 5:30pm-9pm
The same program will be provided each night
Cub Program: Leather Working, Archery, BB Shooting, Campfire Program
Lion Program: Farm Craft, Leather Working, Campfire Cooking, Campfire Program
Scouts will only come for ONE night
Each night will have a maximum of 25 scouts attend
Scouts and volunteers will be encouraged to wear a face covering over their mouth and nose.
Strict sanitation guidelines will be observed to protect attendees.
New registration forms are available online, we hope to see you at CAMP CARSWELL!!
District Recognition Dinner Has Been Postponed until August
(in place of the May 2020 District Connections)
This will be the Annual District Recognition Dinner. It takes place at the Woodland Boy Scout Cabin at 515 Lincoln Ave, Woodland, CA 95695 at 6:30 pm. Nomination forms and current details on the District Recognition Dinner Page. Nominations are now due on June 30, 2020. If there are any questions, please contact Mark Wong via email at awards@ydbsa.org. Click for the lastest info.
[The quarterly "District Connections" has replaced what was previously monthly Roundtable meetings. In the future, there will be a District Connection each February, May, August, and November. The meeting place will move to different parts of the Yolano District each time.]
Centennial Rally - September 26, 2020
At the Sacramento Railroad Museum - Details TBA
Centennial Day of Service - October 24, 2020
Details TBA
Download the Feb 6th District Connections Slide Show
Download the Feb 6th District Connections Minutes
2019 Camporee and Family Camp Surveys
No one is perfect and we certainly are not, though we strive to improve. To do that, we need your help. Feedback is a gift, and your constructive feedback can help us improve Camporee and Family Camp next year. Please circulate the following links with everyone who attended, both youth and adults.
Camporee: https://forms.gle/rQ3etqYR4jQL7sZD7
Family Camp: https://forms.gle/ZhobnvRQ49KN4bF66
The Big Day of Giving was

May 7th, but you can give to Friends of Scouting anytime
Please make a donation to Friends of Scouting on the Big Day of Giving this Thursday. You can use the Donate now! link below or go to the Friends of Scouting page to read all about this wonderful campaign.
Secure online system:

Make a direct donation.
Make a payment on your existing pledge.
Indicate your corporate matching gift.
Share the donation site with friends and family.
---
District Connections: Quarterly (Feb, May, Aug, and Nov) at 7:00 PM - For all leaders, there are great breakouts for Cub and Boy Scout leaders.
Commissioner Team Meeting: TBA - For All Unit Commissioners
---
Latest Yolano District Newsletter: March 2020 Issue
2019 Cub Camp Advancement
Current Adult Leader & Youth Training
View the current list of training sessions (2019-2020) here (updated August 31, 2019)
Updated Unit Directory
List of Units and Their Webpages
District Connections Meeting starting at 7:00 PM in Feb, May, Aug, and Nov at:
Rotating places
Commissioner Team Meeting Included as part of the District Connections Meetings
------------------------------------------------------
Want to keep up with Yolano District breaking news and special announcements?
-Subscribe to our text message feed
-We promise to keep the messages to a minimum
-Text @yolanobsa to 81010 to join (or signup at https://www.remind.com/join/yolanobsa)
------------------------------------------------------
Connecting volunteers with opportunities to care for others and improve out communities.
Just enter the zip code of the community which your unit would like to help.
------------------------------------------------------
------------------------------------------------------
------------------------------------------------------
District Connections Meeting:
Who: All Unit Chairs, Scoutmasters, Cubmasters, Webelos Leaders, Den Leaders, Tiger Partners and other unit leaders
When: In Feb, May, Aug, and Nov at 7:00 pm
Where: Rotating places
------------------------------------------------------
Upcoming Events
| | |
| --- | --- |
| | |
| | The Golden Empire Council Basic Leader Training Committee presents a Zoom collaborative study of Scoutbook When: Wednesday,... |
| | Online Merit Badge - 3 sessions, 7/10, 7/17 7/24 & 7/31, all from 4-5 PM. Must attend all for full credit. Gardening Merit... |
| | Online Merit Badge - 3 sessions, 7/13, 7/15 & 7/16, all from 6-7 PM. Must attend all for full credit. Environmental... |
| | Online Merit Badge - 3 sessions, 7/13, 7/14 & 7/15, all from 5-6 PM. Must attend all for full credit. Entrepreneurship... |
| | Instructions for the Induction Registration If you are a Candidates for NEW Ordeal Memberships plan to arrive Friday by 7:30PM Link >>... |
| | Join us "Down on the Virtual Farm". If you can't go to day camp, let day camp come to you. Day Camp in a Box is... |
| | Online Merit Badge - 4 sessions, 7/20, 7/22, 7/24 & 7/25, all from 2:00-3:00 PM. Must attend all for full... |
| | Online Merit Badge - 3 sessions, 7/20, 7/21 & 7/22, all from 5-6 PM. Must attend all for full credit. Entrepreneurship... |
| | Camp Carswell (Cub Scouts) July 20 - 24, 2020 Mon - Fri - Fri 5:30pm - 9pm Grasslands Regional Park 30475 County Road 104 (Mace... |
| | Online Merit Badge - 3 sessions, 7/22, 7/29 & 8/5, all from 7-8:30 PM. Must attend all for full credit. Personal Management Merit... |
| | GOLDEN EMPIRE COUNCIL 2020 NATIONAL YOUTH LEADERSHIP TRAINING NYLT 2020-1 Summer Course NorCal Adventure Area 15356 Oregon Hill Road,... |
| | Instructions for the Ordeal Registration If you are a Candidates for NEW Ordeal Memberships plan to arrive Friday by 7:30PM Link >>... |
| | Join us for a STEM filled Virtual Day Camp. If you can't go to day camp, let day camp come to you. Day Camp in a Box is our... |
What's happening around the District
---
Current - June 2020
Yolano District Newsletter - Archives
(Archives of Past Issues of The Pleasant Pheasant: Click Here)
---
Website Corrections & Additions
Please send website corrections and additions to Tom Sands, the Yolano District Webmaster
-Updated on 2020-06-08