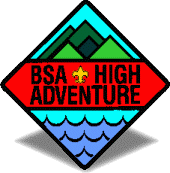 INTRODUCTION TO COLD WEATHER CAMPING
Snow Camping and Snow Outing can provide some of the finest Ultimate High Adventure Activities. The application of Cold Weather Camping skills begins when the temperatures approach 60 degrees. Based on the National BSA High Adventure OKPIK Training course, this Awareness Seminar covers the skills and techniques for planning and leading a successful, safe and enjoyable cold weather outing.
Professional quality, the High Adventure Team program brings together experts from the Forestry Service, Rescue Ski Patrol, Outfitters, Physicians and Experienced Volunteers Scouter to share their expertise with you!
WINTER TRAVEL
· Vehicle Readiness & Driving Tactics
· Trail Travel In The Snow
· Snowshoes
· Cross Country Skis
· Packs
· Sleds
· Weather
· Avalanches

WINTER CAMP LIVING
· Sanitation and Etiquette
· Fires

NAVIGATION IN THE WINTER

PERSONAL GEAR
· Clothing, Layering & Footwear
· Sleep Gear

GROUP EQUIPMENT
· Stoves, Fuel and Cooking Gear
· Tents and Tarps
· Igloo
· Quinzee or Snow Dome
· Snow Cave
· Snow Trench or Snow Pit
· Emergency Snow Shelter

HOME MADE EQUIPMENT

FOOD, WATER, COOKING, AND CLEAN-UP

COLD WEATHER MEDICINE
· Your Body and the Cold - Bio-physiology
· Snow Blindness
· Frost Nip and Frostbite
· Hypothermia

WHERE TO TREK & AWARDS
email HAT-OKPIK at hat.okpik at gec-bsa dot org for more information
(replace at with @ and dot with . ; we're trying to avoid spammers!)

This page revised June 23, 2008