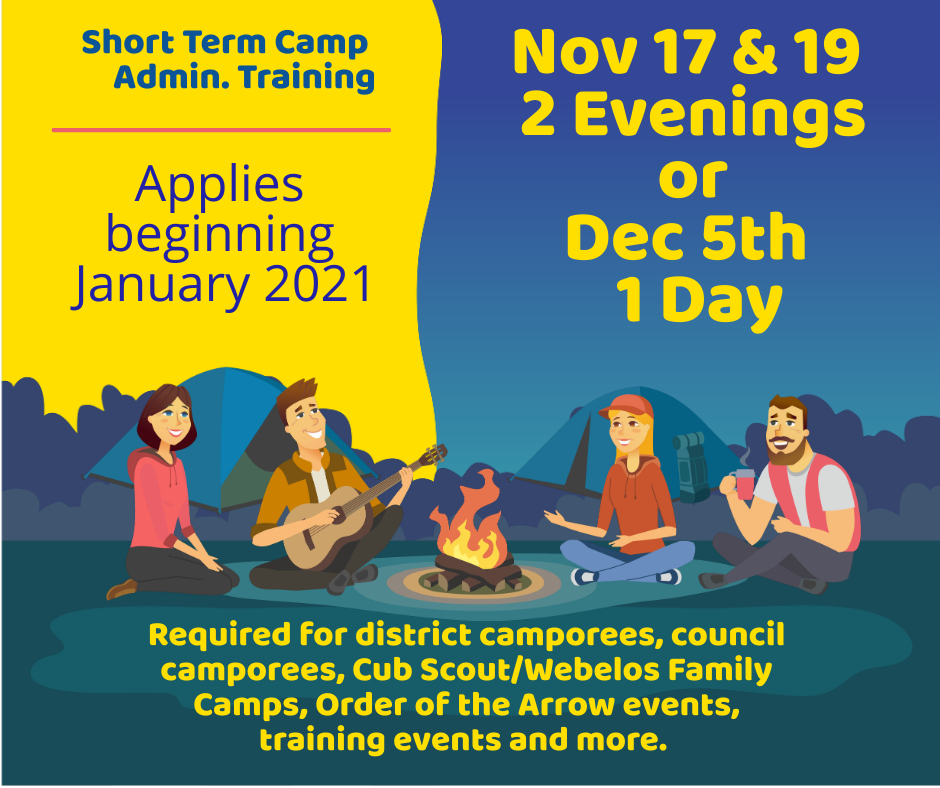 Beginning January, 2021, every District and Council run family camp has been reclassified as a Short Term Camp. This will include Camporees, Order of the Arrow Events, Wood Bage, NYLT, HAT Trainings and more. To make sure we have the Administrators ready to help facilitate this new process, we are offering two trainings in November and December.
Here is more information from National Boy Scouts of America to help with this process:
Short-Term Camps. A short-term camp is any council-organized overnight camping program, whether one-time or continuing, that is one, two or three nights in length where the council or its agents provide the staffing and program and may provide food services, and includes camps conducted off council properties. National training courses are subject to the short-term camp requirements, regardless of format.
So, what kind of camps will fall under this new classification? Put simply, all council, district coordinated overnight events that are three nights are less. This includes district camporees, council camporees, Cub Scout/Webelos Family Camps, Order of the Arrow events, training events and more.
Short-Term camps will have a reduced set of NCAP standards to follow and each camp will be required to have a "Short-Term Camp Administrator". The short-term camp administrator will be trained to coordinate and support the short-term camp. This training will be available in Fall 2020 and be accessible in multiple, easy to access ways. In addition, there will be a new short-term camp resource book released in Fall 2020 to support volunteers and staff advisers.
The goal of NCAP has always been to ensure safe and quality outdoor programs. The addition of the short-term camp classification, and the subsequent retirement of the family camp classification, will ensure that all our council and district council programs have the support materials and training they need to run top-quality and safe short-term camps.
Upcoming classes offered here in the Golden Empire Council include a 2 evening class in November or a 1 day class in December. Please click below to register. We need people from your Districts and Council level committees that run overnight events to sign up and have this training to be ready to meet the requirements that will be put in place starting January 1st, 2021.
November 17 & 19 - 5:30 - 10:00 pm
OR
December 5th - 8:30 am - 5:00 pm